Carpet.. Quiet. Colorful. Comfortable.
Today's carpet styles, carpet colors and textures blend well with any room decor as well with a variety of other flooring products. Not only are carpets pleasing to look at and touch, there are durable carpets that can be right for any room or area. Whether it's your living room that gets heavy traffic, or a nursery that needs to be soft and quiet, at Alpine Floor Covering we have carpet for everyone!
View Our Carpet Colors, Patterns & Textures→
Carpet adds flooring warmth and is soft under feet.
Carpet is much quieter than hard surface floors.
Carpet comes in a wide variety of colors and textures.
Carpet is easy to decorate with and offers many design choices.
Carpet is economical and the installation costs are affordable.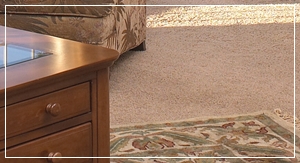 Our installers are highly trained installation experts. Our goal is to ensure everything we do for you is fast and stress-free. We will remove the existing floor, put in your new flooring and have your newly renovated room completed before you know it. Using experienced carpet flooring professionals can make the project faster, easier and many times less expensive.
When Wear Takes Its Toll. Over time your carpeting may have developed waves, ripples, lumps & bumps.
Carpet damages come from any number of sources and measure in all sizes and shapes. You don't always need new wall to wall carpets, you can save money by having your carpets re-stretched & cleaned. Re-stretching takes up the slack in your carpets & can restore them to their original tension. From small solutions to serious repairs, Alpine Floor Covering offers you professional carpet repair services.
When your carpet needs a repair, call us 402-659-2984
We are a full-service floor covering company specializing in complete carpet care. Some of the services that we are proud to offer include:


Carpet Sales and Installation
Carpet Repair
Carpet Patching
Rug Binding
Power Re-Stretching
Pad Replacement
Remnant Binding
Water Extraction

KILZ®

Floor Odor Control
Carpet Stain Protection
Maxim™ Advanced for Better Protection


Totally new Maxim™ Advanced uses the latest technology to deliver the very best levels of protection available. Not only does it protect against oil and water based spills and dry soils but it protects fibers from the toughest dye stains "from the inside out"!
Because Maxim™ Advanced protects the fiber completely, not just at the top, spills will not bead up and then soak through to create stains, Tough stains remove easily even when they've been there for months !
Reasons You Will Love MAXIM™ ADVANCED On Your Carpet.
It will make spot and spill clean-up so much easier and painless. The two levels of protection (stain protection and soil resistance),provide more time to clean up spots and spills. This reduces the likelihood of a permanent stain. so your carpet will last longer.
It reduces carpet wear, especially in high traffic areas. Subsequent vacuuming will be faster, easier, and more efficient.

It will leave your carpet cleaner, brighter, and fresher. The most advanced stain protection barrier and enhanced soil resistance make MAXIM™ ADVANCED the best protector on the planet, and MAXIM™ ADVANCED is safe for their children and pets.
Let our experts help you! For a free consultation, contact Alpine Floor Covering at 402-659-2984. We'll be happy to assist you in coordinating color and design as well as planning for a floor that fits your budget and lifestyle. We are with you every step of the way.