Laminate Flooring
Quality that fits your busy lifestyle
Our stylish laminate flooring systems are perfect for any room of your home, including kitchens, dining rooms, and bathrooms. These eye-catching laminate flooring systems come in a wide variety of styles and colors to match your unique interior decor. Laminate Flooring has become a more popular flooring option because it is durable and is a cost-effective alternative to traditional flooring. If kids or pets are part of your family, laminate flooring is for you!
Excellent Durability
Easy to Clean
Stain Resistance
Fade Resistance
Impact Resistance
Easy Replacement for Repairs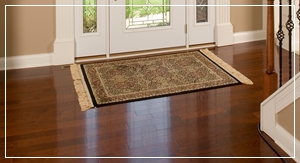 The look of a beautiful hardwood floor can be achieved with ease by using laminate flooring from Alpine Floor Covering. Choose a wood alternative that is affordable and durable - a stylish laminate floor brings a warm and inviting appearance into any space.

Laminate is the master of disguise. It can look like almost any other style of flooring. Because it is made from less costly material, you can get expensive looks for a lot less money. With the latest breakthroughs in technology, you can find an extremely convincing laminate substitute for many different floor types.
Laminate floor coverings feature a newer type of wear surface that resists scratching, denting, and burns better than many existing products.These durable floors are easy to maintain and are beautiful in every room of your home. They are the perfect choice for active families because they are scratch-resistant, extremely durable and super easy to maintain.They can be installed in areas such as bathrooms and kitchens and high-traffic areas like family rooms and hallways.
This flooring option is simple to maintain with no special cleaners or equipment needed. Loose dirt and debris will easily sweep or vacuum up. Homeowners can wipe up any liquid spills with a soft cloth. This durable flooring material is perfect in high traffic areas and is a great option for households with small children and pets.